FREE SHIPPING ON ALL ORDERS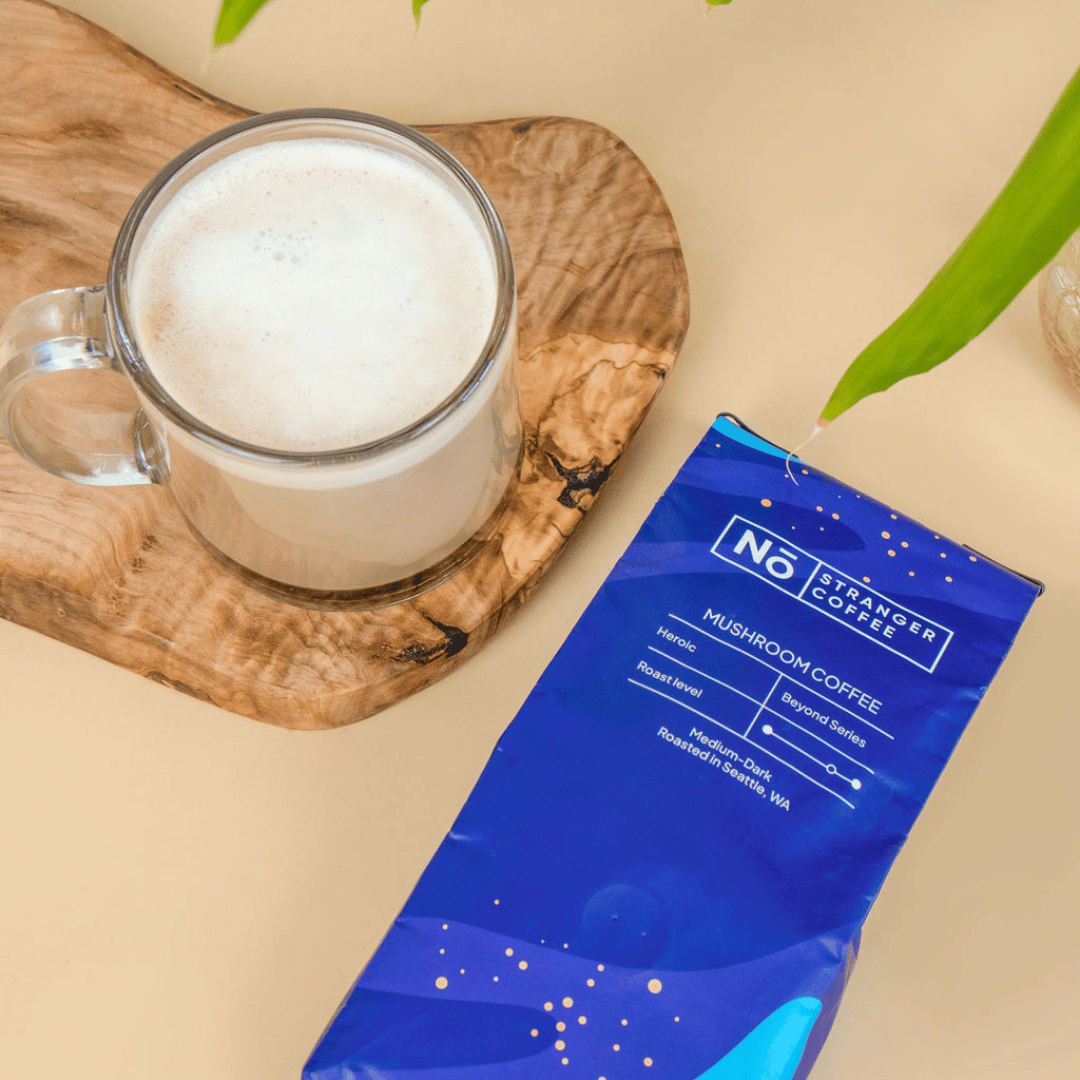 Transform Your Everyday.
Caffeine
90mg
Taste
Notes of Hazelnut and dark chocolate. Exceptionally smooth.
- No Shroom Taste
Feeling
Harness crystal-clear thinking, maintain a peaceful mindset, and tap into a wellspring of vitality. Enhance your efficiency and feel confident to tackle the world's demands.
Ingredients
Lions mane - Cognitive Support
Reishi - Stress Relief
L-Theanine - Relaxation

100% Arabica beans - Smooth Flavor
3 Steps to Peak Performance

They Said WHAT About Us? (Don't Worry, It's Good!)
"I was skeptical at first, but after trying No Stranger Coffee's Heroic Mushroom Coffee, I'm a total convert. The taste is fantastic, and I love the added benefits of stress relief and mood enhancement. It's a game-changer for me"

"I've always been a coffee lover, but Heroic Mushroom Coffee has truly elevated my daily routine. The improved focus and mental clarity I get from this blend have made a significant difference in my productivity at work. I can't imagine starting my day without it!"

"Ordered and was delivered the next day! I am always worried when trying a new coffee because if the flavor & smoothness doesn't hit right it's 🙅‍♀️🙅‍♀️

But WOW!!! No Stranger Coffee has fantastic flavor!! 🎉🎉🎉
It's bold yet smooth and is definitely a coffee I can drink straight black! So so so good!!"

"I am constantly on my feet ALL day for work. Ive tried different coffees, energy drinks, basically anything to keep me awake and alert and nothing does the job like this coffee. Not only does it taste great but I feel amazing all day too. I am ditching the Starbucks and will continue to drink No Stranger! Awesome product."

"I started drinking this coffee while I was in my last semester of college and I wish I had started sooner. This coffee has a great taste and should be a go to for anyone who needs an energy boost without the bad side effects of caffeine!"

"The taste is good, just like any other coffee! The real benefits you feel are in the supplemental ingredients from the mushrooms. I've noticed benefits shortly after trying this daily! It's a good product for those looking to try something new"
10,000+ Drink No Stranger
Questions From Strangers
No, you will not trip from our mushroom coffee! Our medicinal mushrooms are not the same as the psychedelic ones.
Each bag contains 26 servings, providing a month's supply of premium mushroom coffee for daily enjoyment.
Our mushroom coffee is not instant and can be brewed just like a regular drip coffee. You can use your favorite brewing method, such as a drip coffee maker, French press, or pour-over, to make the perfect cup.
Our unique blend of Lion's Mane, Reishi, and L-Theanine offers a range of health benefits, including improved cognitive function, gut support, stress relief, mood enhancement, and relaxation without drowsiness.
Yes! Our mushroom coffee is made from 100% Arabica beans, which provide a rich and bold flavor that coffee lovers will enjoy. The added mushrooms have a subtle, earthy taste that complements the coffee.
Absolutely! Our mushroom coffee is vegan, gluten-free, and paleo-friendly, making it suitable for a wide range of dietary preferences.
Total 5 star reviews: 26
Total 4 star reviews: 1
Total 3 star reviews: 0
Total 2 star reviews: 0
Total 1 star reviews: 0
100%
would recommend this product
Customer-uploaded media carousel. Press left and right arrows to navigate. Press space or enter to open more details.
Slide 1 selected
Lauren T.

My go to in the morning!

I've been drinking this mushroom coffee on a daily basis now for a month and I love it !! . First off it doesn't even taste like those other awful tasting mushroom coffees. I start this coffee in the morning which has been a great addition for my body I feel great as I am using this as an addition to my healthy regime of eating right / excercise . I highly recommend you try this coffee!!

Lola S.

No more instant mushroom coffee!

I've tried 4 different mushroom coffees before (first non-instant), and heroic takes the cake! The taste is bringing me back to actual quality coffee. I can't go back to the instant mushroom coffee ever again.

Tik Tok shop

Bought this on Tik Tok shop and this has changed my life so much!

Brent H.

Verified Buyer

Amazing Product

This mushroom coffee is amazing. This has helped my gut health and focus! I love No Stranger Coffee so much!

Jennifer

Verified Buyer

5 Stars

The best coffee I ever had !!!!! no mushroom taste with all the health benefits! tastes so good and make you feel amazing! all day!
Reviews Loaded
Reviews Added