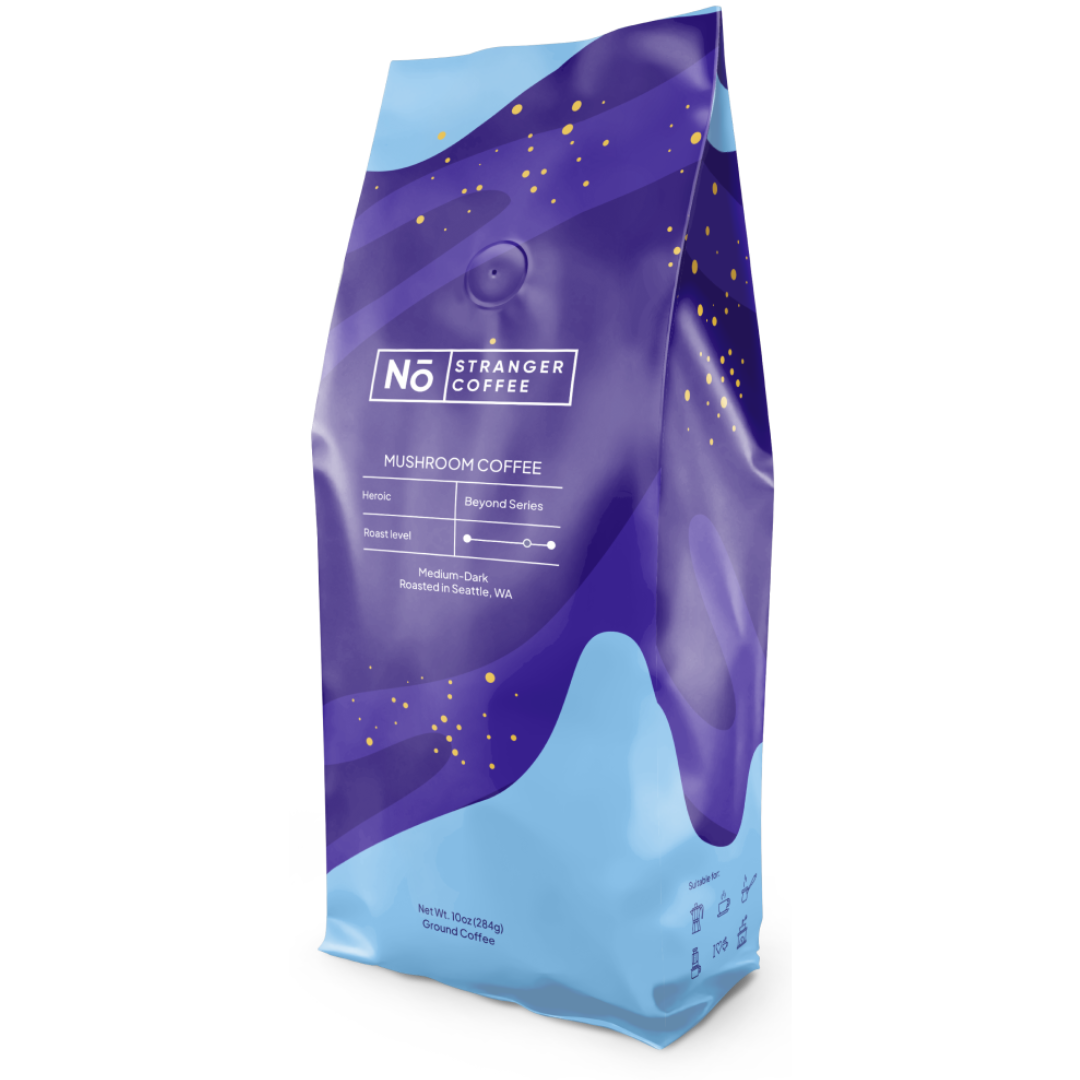 Unlock Your Full Potential with Heroic Mushroom Coffee
Experience the benefits of Lion's Mane, Reishi, and L-Theanine in every sip.
Elevate Your Morning Ritual
A Taste Adventure Awaits!

Our 100% Arabica beans and handpicked mushrooms brew a flavor that'll make your taste buds dance with delight.

Unleash Your Best Version

With Lion's Mane, Reishi, and L-Theanine, our coffee casts a spell to boost your brainpower, energy, and immunity.

Nature's Bounty, Ethically Embraced

We frolic with farms that share our love for the environment, ensuring sustainable practices in every cup.
Experience the Power of Heroic's Ingredients
Lion's Mane

Boost your cognitive function and support nerve growth with this powerful nootropic. Lion's Mane is known to enhance memory, focus, and mental clarity.

Reishi

Experience the calming effects of Reishi, a natural adaptogen that helps your body manage stress, supports the immune system, and promotes overall wellness.

L-Theanine

Stay relaxed and focused with L-Theanine, an amino acid that promotes a sense of calm without drowsiness, while also improving concentration and alertness.
Why Choose Heroic?
| | | | | |
| --- | --- | --- | --- | --- |
| Brewed Coffee (non-instant) | | | | |
| 250mg of Lion's Mane | | | | |
| 250mg of Reishi | | | | |
| 250mg of L-Theanine | | | | |
| Highly Rated Coffee Beans | | | | |
Hear from Strangers
"As a busy mom, I need all the energy and focus I can get. No Stranger Coffee not only tastes great, but it also gives me the mental clarity and stress relief I need to tackle my day. Highly recommended!"

"I absolutely love Heroic mushroom coffee! It's become an essential part of my morning routine. The combination of Lion's Mane, Reishi, and L-Theanine helps me start my day focused and energized."

"I was skeptical about trying mushroom coffee, but No Stranger Coffee has made me a believer. The taste is smooth, and I've noticed a significant improvement in my cognitive function since I started drinking it"

"I've been drinking Heroic for a few months now, and I can't imagine starting my day without it. The blend of ingredients helps me stay alert and relaxed throughout the day. Thank you, No Stranger Coffee!"

"I appreciate No Stranger Coffee's commitment to sustainability and the environment. The eco-friendly packaging, combined with the incredible health benefits of Heroic, makes it my go-to coffee every morning"

"Heroic is a game-changer! I've tried other mushroom coffees before, but none of them compare to the quality and flavor of No Stranger Coffee. Plus, I love that it's vegan and healthy!"
Elevate Your Mornings: Boost your day with our brain-enhancing blend of Lion's Mane, Reishi, L-Theanine, and 100% Arabica beans.
Smooth Flavor: Experience a rich, satisfying taste in every cup.
Focus & Calm: Improve mental clarity, relieve stress, and find balance.
Energy & Immunity: Energize your body and support your immune system.
Ethical & Sustainable: Sourced from eco-conscious farms.
Servings: 10oz bag with 26 servings.
Explore the World of No Stranger Coffee
Sustainably Sourced Ingredients

We pride ourselves on using the finest, ethically-sourced ingredients, ensuring that our mushroom coffee is both good for you and the planet.

The Science Behind Heroic

Learn about the research and science that supports the benefits of Lion's Mane, Reishi, and L-Theanine, and how they work together to improve your well-being.

Brewing the Perfect Cup

Discover the best brewing techniques and tips to enjoy the full potential of Heroic mushroom coffee, delivering a rich and satisfying taste in every cup.